Girlfriend Beta Radio or Garufure Radio ~Erena to Kinoko no Himitsu no Houkago~ is the official web radio for Girlfriend BETA.This web radio is hosted by Harada Hitomi (Erena Mochizuki Seiyuu) and Mizuhashi Kaori (Himejima Kinoko Seiyuu).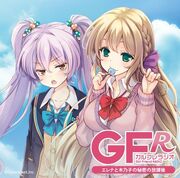 This radio is a web radio that can be listen for free on Hibiki Radio Station ,first broadcasted on October 8,2013 and updated every Tuesday and above the 3rd broadcast,guest will appear every week,and the guest are the seiyuu of the characters in Girlfriend Beta Game.
Even though this radio is hosted both by Harada Hitomi and Mizuhashi Kaori,but because of the busy schedules of both seiyuu,sometimes this radio are hosted alone by Harada Hitomi herself or Mizuhashi Kaori herself,but if their schedules are matched they will host this radio together,this radio always opens with a mini drama with the corresponding cast from this radio weekly guest and host.
Corners List
Edit
Garufure Zukan
Edit
A corner to introduce characters from Girlfriend Beta to the listeners.
Koukando UP↑DOWN↓
Edit
A corner to accepting a various situations with a certain girls from the listeners and the host will judge the favorability up and down,favorability varies to +5,0,-5.
Seiou High School Ouen Dan
Edit
A corner to accepting a problems that the listeners wanted to cheer,the guest will pick the traits cards (SWEET,COOL,POP),and make the cheers based on the picked traits.Harada Hitomi,Mizuhashi Kaori and the guest will cheers the listener as their own characters.